Laser Diode Module with Collimator
Description:
The laser diode module with collimator has a radiant flux power 500 mW, a wavelength of radiation 1.06 μm and beam divergence angle of less than 3 mrad. It was developed in order to obtain minimum divergence angle of optical beam by forming a system with cylindrical and spherical lenses. A quartz cylindrical microlens with a 50 μm radius serves for focusing the ellipse-shaped spot light; the optical fiber is fixed at a distance of 25 μm and is used in the capacity of this lens. The light beam is collimated by a spherical lens with 10 mm diameter with a focus distance of 15 mm. The optical lenses are covered with antireflection layers.

Innovative Aspect and Main Advantages:
Decrease of the divergence angle of the beam less than 3 mrad;
Simplification of the technology.
Areas of Application:
Optical pump sources for solid-state lasers;
atmosphere communication systems;
environment monitoring; medicine.

Stage of Development:
The optoelectronic module (1.06 μm operating wavelength) was tested at the Technical University of Moldova.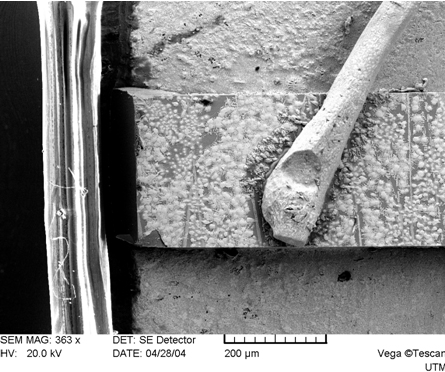 a)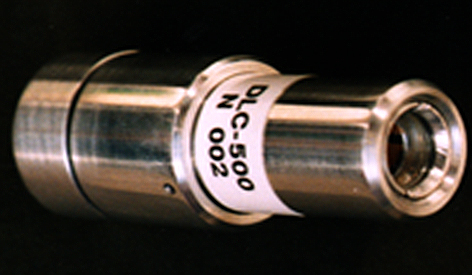 b)
Fig.1 SEM image of the laser diode with cylindrical lens (a); photo of the optical module with collimator (b).
Contact Details:
Technical University of Moldova
Contact persons:
Valerian DOROGAN, vice-rector
Sergiu ZAPOROJAN, department of scientific investigations
Address:
Republic of Moldova, Chisinau, 168, Stefan cel Mare Ave.
Tel/Fax:
+ (373 22) 23 54 37,
+ (373 22) 23 54 05
E-mail:
dorogan_lme@yahoo.com